The History of Cigars in the Hamptons
Unbeknownst to many today, cigars were a flourishing business industry in the  Hamptons ever since the 1870s.
The industry was mainly concentrated in Sag Harbor.
Sag Harbor, The Story of an American Beauty
by Dorothy Infersoll Zaykowski
"A local resident by the name of Mr. Joseph Freudenthal launched a flourishing Cigar business and his Cigar (Segar) Factory was located in the Huntting Building at the foot of Main Street across from the Post Office. During the 1870's, more than 75 people were employed there, and the business grossed over $100,000 per year. Freudenthal manufactured a brand of cigar he called the Enigma, in honor of the Enigma Club of Sag Harbor. The factory was located across from the Post Office at the time. Freudenthal's factory was said to have manufactured the best Havana and American cigars on all of Long Island. He often found it impossible to fill all the orders, even when he produced 70,000 cigars each week…The factory's supervisor was Henry Meyer and the store was run by Julius Judell."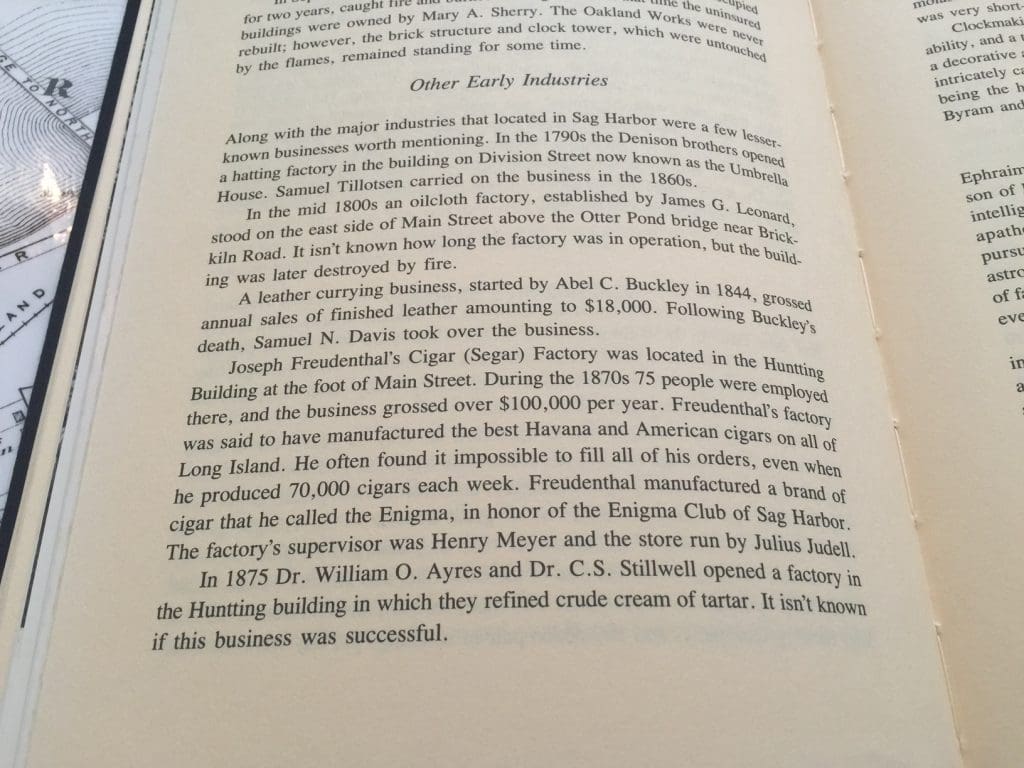 Upon further historical research from Library and Official chronicles from the day, it was gathered that Freudenthal ran ads in the local paper Sag Harbor Express of that time each week promoting the store and the latest arrivals.
We also have unearthed maps that show Freudenthal lived with his family in a house – ironically – across the street from the present location of the Sag Harbor Historical Society!
Cigars in those days were produced in groups of residential homes in New York as well. It was an informal and unregulated business that soon relocated to Brooklyn. But in Sag Harbor it was a flourishing and well organized business even with a retail storefront managed by a local.
Even though the business accumulated in New York, the owners often coveted and competed with Sag Harbor factories and their customers and would run rival ads in the local papers to garner attention! We were able to unearth such ads as you can see in the gallery at left.